Chester Film Society 2023/2024 Season
Full details of our 2023/2024 Season are shown below. 
For a handy downloadable pdf of the whole season, click on the image below: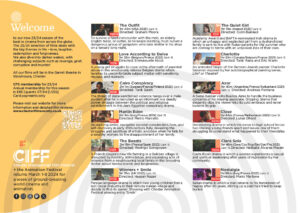 For details on how to join as a Member, or attend films as a Guest, go to the Members & Guests page
As last season, all films will be screened  in the  GARRET THEATRE at Storyhouse, and will take place on THURSDAYS.
Films start at 7.30pm, doors open at 7pm.
---
28 September 2023    

The Outfit   
USA  |  2022  |  1hr 45m  |  Cert 15                        
Director: Graham Moore
To survive a fateful encounter with the mob, an elderly English tailor, or cutter, as he keeps insisting, must outwit a dangerous group of gangsters who take shelter in his shop on a tensely long night.
Audience feedback:
"Enjoyable and stylish";
"Mark Rylance is superb!  Very clever film";
"A wonderful film"; "Mark Rylance – Olivier for modern times"
"So many twists!  Superb acting, all in one room? Love Mark Rylance and Simon Russell Beale. Thank you!"
"A tad Claustrophobic."
"Need to watch again – all the twists!"
Audience Score:  8.56
---
12 October 2023   
Love According to Dalva         
Belgium/France  |  2022  | 1hr 28m  |  Cert 15                               
Director: Emmanuelle Nicot 
A young girl struggles to cope in the aftermath of parental abuse in this emotionally intense Belgian drama which handles its uncomfortable subject matter with sensitivity, respect, and restraint.
Audience feedback
"Mesmerising performance by Dalva"

"Hard watching"

"Enjoyable"

"Harrowing but brilliant depiction of abuse"

"Hopeful, thought provoking "

"Not easy to watch but excellent film"

"More questions than answers"

"Well acted , positive ending"

"Difficult subject done well"
Audience Score: 8.3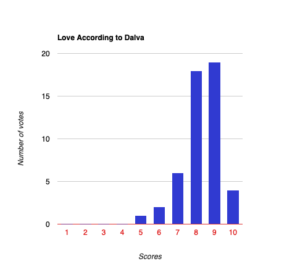 ---
26 October  2023

Cairo Conspiracy  aka Boy From Heaven   
Sweden/France/Finland | 2022 |
2hr 1 min | Cert 12                                    
Director: Tarik Saleh
The threat of state-sanctioned violence hangs over a male student after he is recruited as an informant. A deadly power struggle ensues between the political and religious establishment in this dark Egyptian conspiracy drama.
Audience feedback
"A cruel male-dominated world"
"Depressing"
"Convincing"
"A little too topical"
"Thought provoking "
"Head mashed. Corruption! Corruption!"
"An exhilarating film whilst not enjoyed, depicted so much in its content and action. Superb""Weird fish chase seagulls"
"The pulse in the webbing of the police chief's head! 10/10"
Audience Score: 8.3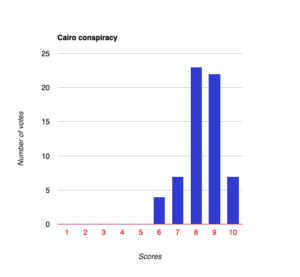 ---
2 November 2023   

Martin Eden                 
Italy/France | 2019 |  2hr 9m  |  Cert 15                       
Director: Pietro Marcello
Martin Eden, an aspiring writer, navigates societal complexities, love, and self-discovery in early 20th-century Italy, revealing the struggles and sacrifices of artistic ambition when he falls for a wealthy woman, to the disappointment of her family.
"Wonderful cinema"
"Loved first 2/3 lost a bit at end? Not sure"
"Unlikeable, no levity, his sister had it right when she said people need a break from sadness"
"Martin Eden-who cares? Like a continental pastry!"
"A fascinating film which was interesting for the first 75% of the film then a disappointing end."
"Loved the atmospheric shots of people in Naples"
"Heavy going, but much truth"
"Too long. Lost its way but enjoyed the first half and social/economic context"
"A film of great beauty"
"Capitalism has failed, not socialism"
"Unbearable, loathsome and a depressing ordeal to watch"
"Raw, earthy. Disintegrated towards the end!"
"The film was like the beautiful sailing boat- started off magnificently before sinking without trace."
Audience Score: 7
---
23 November 2023 

The Beasts                      
France/Spain | 2022 |  2hr 18m  | 
Cert 15                        
Director: Rodrigo Sorogoyen
A French couple's new life farming in a Galician village is disrupted by hostility, intimidation, and escalating acts of violence from a neighbouring local family in this brooding thriller about familial bonds and forgiveness.
---
7 December 2023         

Winners + Smile          
UK | 2022 | 1hr 25m |  Cert PG                 
Director: Hassan Nazer
Persian language drama in which two young children find a lost Oscar statuette in their remote Iranian village and decide to find its owner. Showing with Chester Animation Festival winning entry 'Smile'.
---
11 January 2024

The Quiet Girl                            
Ireland | 2022 | 1hr 31m  |  Cert 12    
Director: Colm Bairéad
Academy Award and BAFTA-nominated Irish drama in which an unhappy and neglected girl from a dysfunctional family is sent to live with foster parents for the summer who are coming to terms with an unspoken loss of their own.
---
25 January 2024 

Charlotte
Canada/Belgium/France | 2021 |
1hr 32m | Cert 12                        
Animation
Director: Éric Warin, Tahir Rana
An animated biopic of the German-Jewish painter Charlotte Salomon inspired by her autobiographical painting series, Life? or Theatre?
.
---
8 February 2024   

Azor           
Argentina/France/Switzerland | 2021 |
1hr 40m  | Cert 12              
Director: Andreas Fontana
 Swiss banker visits Buenos Aires to handle the business concerns of his missing associate. Gripping drama that elegantly slips the viewer into its cold embrace and never loosens its grip.
---
22 February 2024

Close              
France/Netherlands | 2022 | 1hr 44m| Cert 12                         
Director: Lukas Dhont
Devastating drama in which the move to high school forces two lifelong young friends apart and leaves one of them struggling to understand what happened to their friendship.
.
---
21 March 2024 

Clara Sola     
Sweden/Costa Rica/Belgium/Germany/France | 2021 | 1hr 46m | Cert 15                        
Director: Nathalie Álvarez Mesén
Costa Rican drama in which a woman experiences a sexual and spiritual awakening after years of repression by her community.
---
4 April 2024  

Nostalgia                        
Italy/France | 2022 | 1hr 58m  | Cert 12                       
Director: Mario Martone
Italian drama in which a man returns to his hometown of Naples after 40 years, stirring up a past which he's tried to keep buried.
.
---