Our 2023-2024 season continues on Thursday 7th December  with Winners + Smile!
Christmas reception sponsored by Vain Hair & Beauty
Full details of the films showing in our 2023/2024  season can be found on  the Programme page and on the Storyhouse Chester Film Society page.
Winners + Smile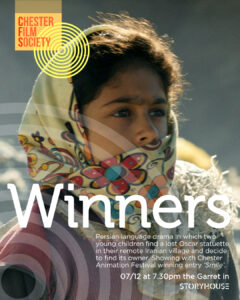 9-year-old Yahya and his best friend, Leyla scramble over the local rubbish dump, foraging for recyclable plastics in exchange for a handful of change. Then he makes two discoveries: one is an Oscar statuette, mislaid on the outskirts of his village. The other is the secret cinema history of the owner of the recycling business, once a globally recognised actor.
Winners is showing with Chester Animation Festival winning entry 'Smile'.
The film notes for this showing can be found here
---
Audience feedback for our fifth film 'The Beasts'
"Completely believable"

"Great acting if a bit slow at times"

"Savage, hard to endure"

"Two films for the price of one!"

"Men! Men! Men!"

"Clever but a bit too long"

Useless dog

"Not a film I'd recommend or want to view again"

"Too miserable – why can't we have happier films?"
Average Score: 7.6